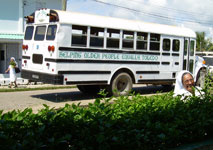 There is a misconception in Belize that all older people are frail and need care. Although there are certainly many abandoned older people that do need care and attention there are far many older people that relish their independence and would prefer to live comfortably in their own homes and avail themselves of the services available in their communities to enjoy their later years in peace and dignity. Unfortunately the services available to older people countrywide are woefully inadequate and those that exist are under financed and under staffed.
In an attempt to address this issue, the NCA teamed up with FAVACA (Florida Association of Volunteer Action in the Caribbean & Americas) and Florida International University (FIU) in November 2006 to provide training in home health care to family members, volunteers and support workers concerned with care in the community and who would then pass on their knowledge as trainers to others.
This Training of Trainers workshops covered areas such as:
Healthy Eating and Nutrition
Exercise
Hygiene
Care giving
First Aid
Positive Ageing
Truths and Myths about Ageing
Spiritual Health
Caregiver Resource Manuals
Alzheimer's Caregiving support group handbook 
Helping Caregivers Training manual 
Let's talk about falls Prevention Manual 
 Click to visit the Alzheimer association  and My Cielo Blue 
Ongoing Training
In 2013 the NCA's Programme Officer, Ms. Ix-Chel Poot completed a ten month Specialization Course in the Management of Health Services of Older Persons. Her thesis for the courses was based on providing adequate training for caregivers of vulnerable older adults; as a result Ms. Poot has been providing caregiver training to various organizations. In addition to these training sessions the NCA also provides various workshops and educational talks on ageing and ageing issues. For more information on training opportunities contact the NCA.