In each issue of our newsletter we feature an exercise tip and or article on a fruit. Our health article this issue focuses on our Senior Steps Program. Senior Steps is a six month exercise and nutrition project currently underway in Belmopan and Corozal. The project is a joint venture of the NCA and the Ministry of Health.
The project was officially launched in Belmopan on June 1, 2010 at the Hazel Hutchinson Center in Belmopan. Present at the launch was Minister. Pablo Marin, Minister of Health; Dr. Peter Allen, C.E.O, Ministry of Health; Dr. Beverly Barnett, PAHO Representative to Belize; Ms. Lorraine Thompson, PAHO Technical Advisor and prospective Senior Steppers from Belmopan and Corozal. At the launch each Senior Step club was presented with their t-shirts and banners.
The clubs meet weekly; Mondays in Belmopan and Wednesdays in Corozal. The exercise component of Senior Steps is done through dancing. Both clubs are learning to square dance and, although there is a shortage of male participants, everyone shakes a leg when the music gets started.
The Belmopan Club is facilitated by Ms. Rita Flowers and the Corozal Club by Mrs. Maria Magana. In August the clubs will be learning a new dance. And while the dancing is an excellent way to exercise the project also has a health education component. A Health Educator from HECOPAB and Ms. Robyn Daly, Nutritionist at the Ministry of Health, provide helpful information for the participants on how to stay healthy by eating right and how to better manage their medical conditions in older age. We wish them all the best and look forward to seeing a dance display at the end of the project.
Below we have a banana shake recipe that the Senior Steps group enjoyed at one of their sessions. Give it a try at home its delicious!
Banana Shake
2 Bananas
1/2 Cup Orange Juice
1/2 Cup Water
1/2 Cup Crushed Ice
Peel & Chop Bananas. Place all ingredients in a container and blend until a creamy mixture is obtained. Serve with crushed ice and use immediately.
(Provided by Ms. Robyn Daly, Nutritionist, Ministry of Health)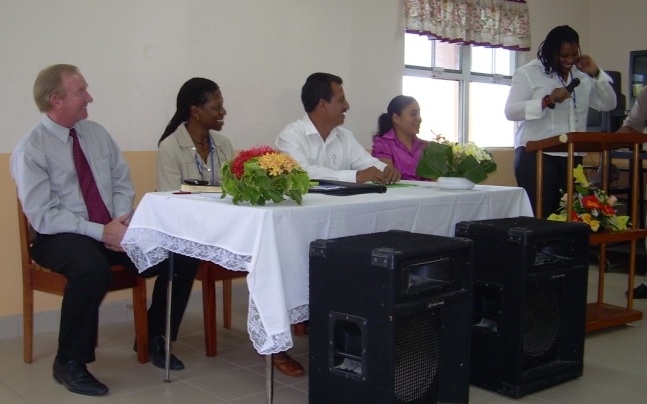 L-R: Dr. Peter Allen, CEO Ministry of Health; Dr. Beverly Barnett, PAHO Representative, Hon. Pablo Marin, Minister of Health; Ms. Ix-Chel Poot, NCA; Ms. Lorrain Thompson, PAHO
Social Share