On March 13th, 2011 the members of VOICE Belize converged at the Hazel Hutchinson Centre in Belmopan for the VOICE Annual General meeting.  VOICE members from across the country were present to listen to activities reports for the last year and elect a new National Executive Committee.
The NCA, through the SIF project, presented each VOICE group with a new computer and printer to be used for the enhancement of VOICE in each district.
The VOICE Corozal group received a  computer at the AGM and the other district groups will be receiving their equipment as soon as VOICE   offices are established in each district.
The VOICE Executive Committee for 2011 is comprised of two members from every district, one representative for the urban area (city/town) and one representative for the rural area.  The newly elected members of the VOICE  National Executive: 2011/12 are:
NAME 
POSITION 
Mr. Paul McCord
Mrs. Victoria Hernadez
Ms. Sylvia Naj
Mr. Daniel Bolon
Mr. Rudolf Serrano
Mr. Natalio Reyes
Mrs. Norma Sutherland
Mr. George Mai
Mr. Elias Ranguy
Mrs. Jesusita Casteanos
Mrs. Oddette Lui
Mr. Gustavo Castaneda
President
Vice President
Secretary
Assistant. Secretary
Treasurer
Assistant treasurer
Councilor
Councilor
Councilor
Councilor
Councilor
Councilor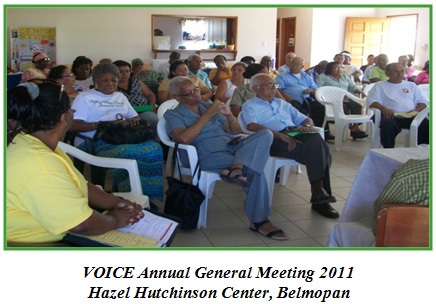 Social Share